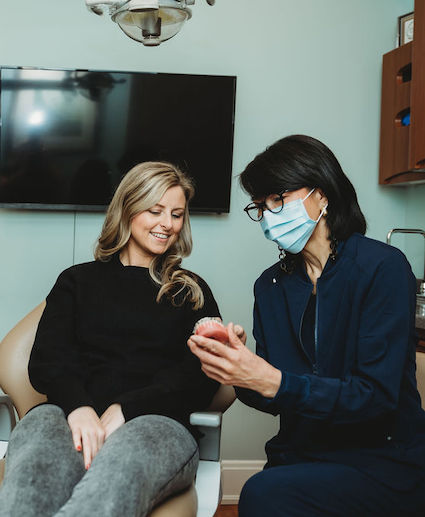 We're here to improve your health and give you the dazzling smile you've always wanted. We respect your important decision to receive orthodontic care and will work with you every step of the way to make sure your journey is successful and rewarding. Using advanced technology, we offer many safe and gentle treatment options to give you the customized care you deserve.
On your first visit, you'll meet our doctors and team, learn more about orthodontics, receive a complete exam, and discuss which treatment options best meet your needs. Here's what we do:
Review your dental and medical history forms

Conduct a complete oral exam, including X-rays, to determine whether treatment is necessary

Work with you to create your personal treatment plan

Discuss all financial information, insurance options, and payment plans. Our team will be glad to answer all of your questions and provide the information you need to determine which treatment is right for you.
After your consultation, if you are ready for treatment, our friendly scheduling coordinator will assist you to schedule your first appointment. At that appointment, your doctor will place your new orthodontic appliance. This visit generally takes about one to two hours, during which our team will make sure you are comfortable.
Regular visits to the orthodontist every four to eight weeks are crucial to your successful orthodontic treatment, so we work with you to make sure your appointments are as convenient as possible.
We understand that life happens! If you're running late or need to reschedule, please let us know right away. We'll do everything we can to accommodate you.
We're looking forward to working with you!
It's imperative you continue to visit your family dentist once every six months—especially during your orthodontic treatment—for cleanings and routine checkups. If you need extra dental care, we're happy to coordinate with your dentist to make sure you're receiving the optimum care.
New patient? Special offer here!
Welcome to Hyde Park Orthodontics!
We are open and offering complimentary new patient consultations.
How can we help?
I'm considering treatment
I'm a patient and need assistance
Excellent, I can help!
Good news, We're are now offering both free Virtual and In-Office Consultations
PLUS, we have a limited time special offer for you.
Just by chatting here we're both saving valuable time, so you've just earned a $100 credit toward treatment!
Use this promo code: SMILE and click one of the options below here to redeem your $250 credit and let us know what you are comfortable doing next:
I'd like to set up a virtual consultation
I'd like to set up an in-person consultation
I have a quick question - click to call Hyde Park Orthodontics